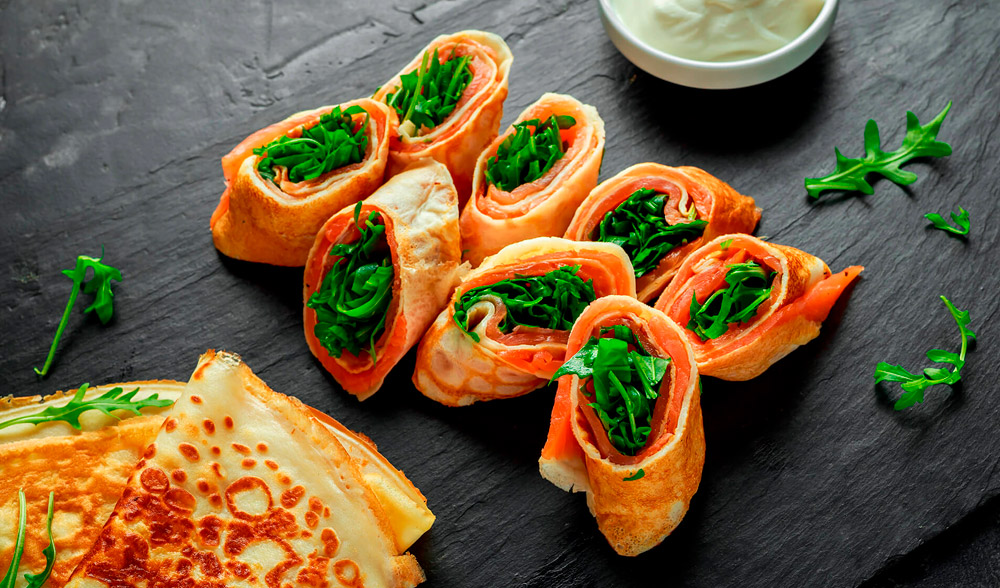 Salmon and Rocket Crepes with Sour Cream
Smoked Salmon Skandia
Eggs
Flour
Milk
Sugar
Extra Virgin Olive Oil
Rocket
Sour cream sauce
First, mix 2 eggs, flour, milk, 1 tablespoon of sugar and a drizzle of Extra Virgin Olive Oil. Then whisk it well and add a bit of the mixture divided into 4 small circles in a pan lightly oiled. When the edges begin to brown, turn them over. Next, spread cream cheese seasoned with Provencal herbs over each mini-crepes and add a tablespoon of red caviar substitute. Finely chop some fresh chives and sprinkle them on every crepe. Then pour a large spoonful of this mixture into a pan with a bit of olive oil or butter until you cover all the base of the pan. When edges begin to brown, turn it over. Once the crepes are done and tempered, place our Norwegian smoked salmon and fresh rocket on top. Roll up and cut them into pieces. Finally, mix one Greek yoghurt, the juice of half a lemon and a pinch of salt in a small bowl. Enjoy our sour cream sauce for dipping the salmon crepes bites.
Ingredients that may interest you
Subscribe now to the Skandia Newsletter to receive information straight to your inbox, including all our news, delicious recipes and promotions.