The sea has made us great and we owe it everything we have become. For more than 40 years we have been travelling the world's seas to bring you the best smoked foods with the most prestigious certifications: salmon, tuna, trout, sea bass… Healthy, delicious products that illicit incredible sensations.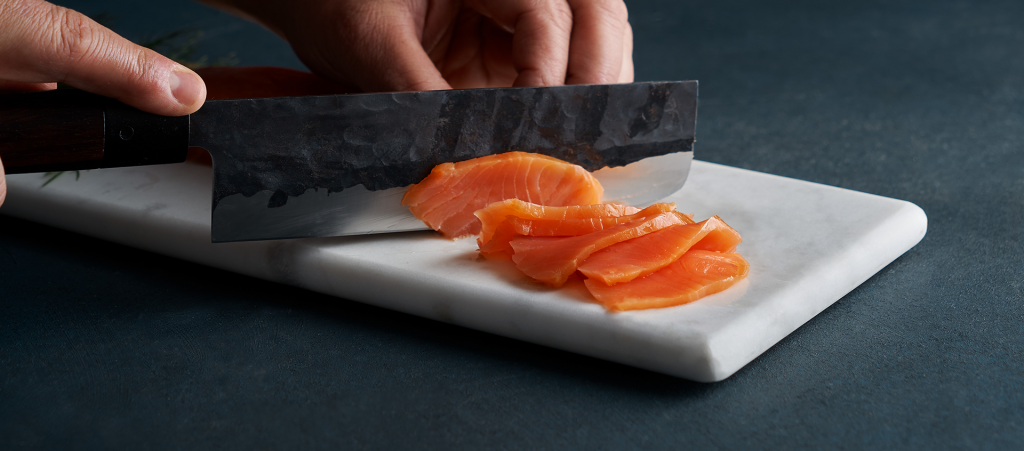 OUR DAILY MOTIVATION.
Skandia Ahumados is motivated every day by the desire to produce smoked foods with a unique personality. We achieve this thanks to our corporate values.
Passion. We have become a benchmark in the sector because of the passion we put into everything we do. Every day we give our best to make sure you enjoy the most delicious smoked foods.
Innovation. Innovation is the norm at Skandia. This is how we stay at the forefront of a sector in constant evolution.
Responsibility. We have placed social responsibility and sustainability at the heart of our corporate culture at all levels of the company.
Quality. To secure your trust we follow the most demanding food safety and responsibility standards.
QUALITY FIRST AND FOREMOST.
The experience of the Scandinavian masters flows into how we smoke our products, a process using only beech wood combined with the most avant-garde technology. This produces a unique flavour and texture.
We are highly committed to quality and the trust you place in Skandia. We apply the strictest standards of food safety and responsibility, promoting sustainable fishing practices benefiting both the fish and the environment.
More than a century of experience in making smoked foods inspired by Scandinavian culture.
SUSTAINABILITY IS IN OUR DNA.
We owe the sea everything we have become. Skandia Ahumados always seeks to give back a little of what the sea has given us by using the most sustainable techniques possible.
We have placed sustainability at the heart of our corporate culture across all levels of the company, making it an indissoluble part of our DNA.
Sustainable aquaculture. Several years ago we signed up to the Aquaculture Stewardship Council (ASC), the independent organisation working to transform aquaculture into an environmentally and socially responsible activity, guaranteeing that our salmon is obtained from methods that minimise the social and environmental footprint of acquaculture.
Sustainable fishing. All of our products from open sea fisheries come exclusively from MSC-certified (Marine Stewardship Council) fisheries, guaranteeing that fish stocks are maintained in a healthy state, that the fishing techniques used minimise the impact on the environment and ensuring good management.