What motivates us day in and day out makes us passionate, inspires us… Skandia Ahumados wants to share all the latest news about our company with you.
PROJECT FOR A FISH PROCESSING LINE INSTALLATION. EXP. 521AND00247
With the goal of increasing production and the quality of the final product, we proceeded to install a new Filleting and Slicing Line in our facility. This will enable us to achieve higher production levels and provide better service to our customers. We have also installed Refrigeration Panels and Cooling Equipment to enhance efficiency and energy performance, reducing pollutant emissions and improving the cold chain. Furthermore, these safety improvements contribute to maintaining our commitment to ensuring traceability.
SKANDIA ONCE AGAIN AWARDED BY MSC
We are honored to receive recognition once again in the Refrigerated category at the 3rd edition of the "Mares para Siempre" Awards by the independent, non-profit International Organization, Marine Stewardship. Skandia continues to demonstrate its commitment to sustainable fishing.
SKANDIA AT THE II CARREFOUR TRADE SHOW 2023
This month of May, we attended the second Carrefour Trade Show held at Ifema, Madrid, alongside over 140 exhibiting brands where we could showcase our products.
Last April, we participated once again in the Seafood Global Expo 2023 in Barcelona. There, we had the opportunity to showcase our latest innovations alongside over 2000 companies from more than 70 countries.
INVESTING STRONGLY IN SUSTAINABILITY
We invested strongly in a photovoltaic solar energy project, which helps us improve our commitment to the environment. Already started in 2021, it meant the installation of 634 solar panels on our factory roof, which take up a surface of 1,639 square metres. This measure will reduce the amount of CO2 we use by 174 tons per year, a quantity equivalent to what 8,710 adult trees absorb.
As a result, we can produce our own green energy, which means improving the quality of our production. Especially in the present moment, when the energy cost is moving upwards.
These measures make us still one of the four most remarkable companies in manufacturing smoked products in Spain.
Last April Skandia participated in the Seafood Global Expo. A complete success presenting our novelties together with 2000 other companies.
Aid from the European Union under the European Maritime and Fisheries Fund (EXP.521AND00184), which we will use to continue promoting our activity with a project to improve the agri-food industry, for the purpose of processing and producing fishery products and smoked aquaculture.
The investment will result in the installation of a new format packaging line and solar panels.
MSC AWARDS SKANDIA FOR ITS COMMITMENT TO SUSTAINABLE FISHERIES
Skandia, one of the leading companies in smoked fish based in Malaga, has been awarded in the Refrigerated category in the 2nd Edition of the Mares Forever Awards of the international independent, non-profit organization, Marine Stewardship Council.
This June we celebrate World Oceans Day together with the Marine Stewardship Council. Our oceans cover around 70% of the planet's surface and account for over 80% of its biodiversity. At Skandia we are committed to sustainable fishing, which is why we offer you a wide range of products with the MSC label. We work every day to contribute to the conservation of marine reserves, caring for the environment is everyone's business and through small gestures we can achieve it.
This February, Skandia collaborated with Marine Stewardship Council (MSC) in the #seasforever campaign. We want to transmit our commitment to sustainable fishing, the conservation of the environment and the advances in our company policies to improve in this matter every day. But above all, we want you to become an active part of this commitment enjoying the seafood while taking care of the sea is possible.
Vensy Spain has received a grant from the European Maritime and Fisheries Fund (EMFF) to develop a project that improves the agri-food industry to transform and manufacture fish products and smoked aquaculture. This grant will be used to install new lines of equipment, the transformation of products and refrigeration insulation.
Looking after the environment is everyone's business. We can all do little things to help conserve the seas and oceans. At Skandia, we have products that carry the MSC blue label guaranteeing sustainable fishing and environmental conservation. It is possible to enjoy the best flavors of the sea while helping to look after it.
CHOOSE SUSTAINABLE FISHING ALSO DURING CHRISTMAS
Christmas is coming. We wish you and your family lots of joy during this special time. We hope you laugh and play without forgetting to take care of the planet. Skandia offers you products labelled with the MSC blue seal that guarantees sustainable fishing and commitment to the conservation of our seas. Forbid sea life to become a once upon a time tale.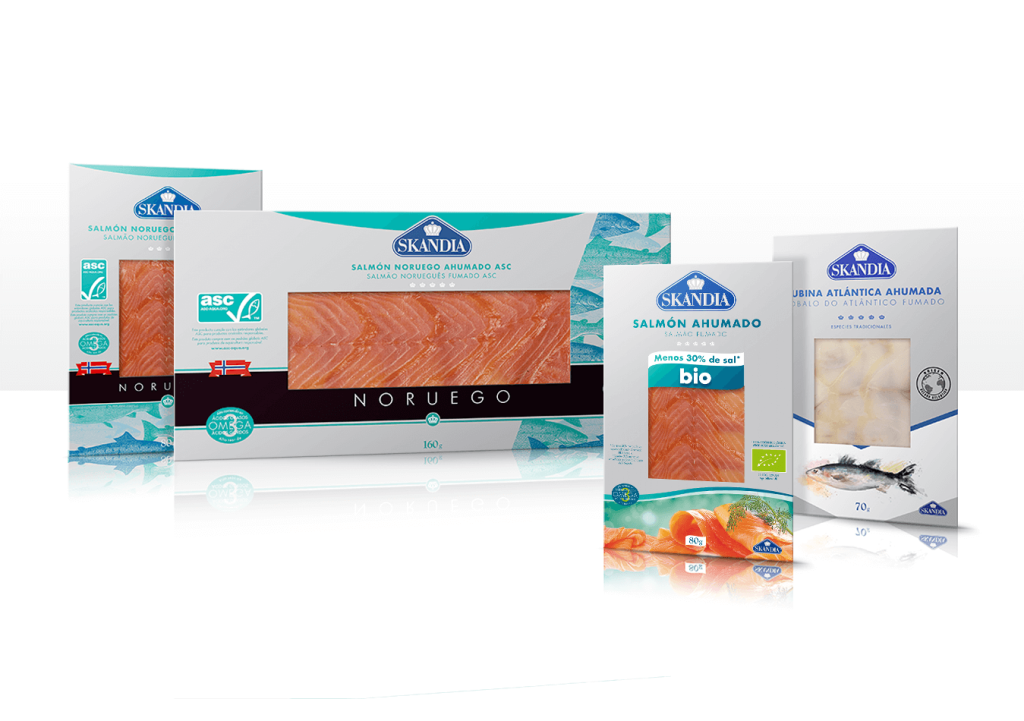 New Skandia products on your tables. Our ASC Smoked Norwegian Salmon guarantees socially and environmentally responsible aquaculture. Our organic Smoked Salmon with 30% less salt ensures you can enjoy the flavour of an organic and healthy product, and our Atlantic Smoked Sea Bass is certified 100% Atlantic in origin.
Skandia for responsible aquaculture
Being the first Spanish company to receive the ASC certificate for a smoked salmon proves Skandia's commitment to the environment. More specifically, a commitment to an environmentally and socially responsible aquaculture, whose methods will play a key role in fish farming in the future.
ASC and Skandia join forces
Skandia has become the first Spanish company to receive the ASC certificate for its smoked salmon. Our commitment aims to transform the aquaculture sector into a responsible one for society and the environment. Skandia signs up to the ASC's goal of meeting the food needs of the world's growing population sustainably for the entire society.