Energetic Value: 861 KJ / 207 Kcal
Fats: 13 g of which saturates: 2,2 g
Carbohydrates: 0,5 g of which Sugars: 0,5 g
Proteins: 22 g
Salt: 3,5 g
Omega 3 Fatty Acids (EPA + DHA): 1,9 g
Smoked salmon (Salmo salar) –Norwegian breeding area –, and salt
RECIPE: SALMON AND ROCKET CREPES WITH SOUR CREAM
INGREDIENTS
Norwegian smoked salmon 100 g, eggs, flour, milk, sugar, Olive Oil, rocket, and sour cream sauce.
PREPARATION
Mix 2 eggs, flour, milk, 1 tablespoon of sugar and a sprinkle of olive oil and whip itl. Pour a large spoonful of this mixture in a pan with a bit of olive oil or butter until you cover all the base of the pan, when edges begin to brown, turn it over. Once the crepes are done and tempered, we place our smoked Norwegian salmon and fresh rocket on top. Roll up and cut them into pieces. In a small bowl mix one Greek yogurt, the juice of half a lemon, and a pinch of salt. We already have our sour cream sauce for dipping the salmon crepes bites.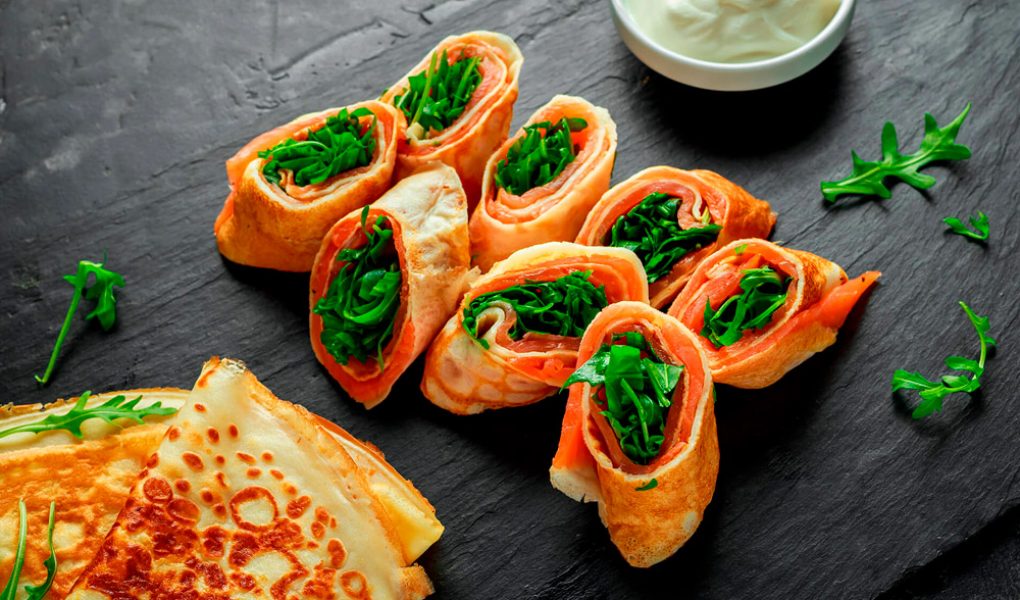 Subscribe now to the Skandia Newsletter to receive information straight to your inbox, including all our news, delicious recipes and promotions.