Skandia Smoked Fish Assortment (salmon, cod and tuna)
Discover the best selection of flavors from the sea with our assortment of smoked salmon, cod and tuna. Enjoy it simply by savoring its flavor or adding a different touch to your recipes. The Skandia assortment has the MSC and ASC labels, which guarantee sustainable fishing and responsible aquaculture for the conservation of the environment. Enjoy the best seafood while we help take care of it, it is possible.
Store between 0-4ºC.





Energy Value: 619 KJ / 147 Kcal
Fats: 5,2 g of which saturated: 0,8 g
Carbohydrates: <0,5 g of which sugars: <0,5 g
Proteins: 25 g
Salt: 4 g
Omega 3 Fatty Acids (EPA + DHA): 0,5 g / 100g
Smoked salmon (Salmo salar) – Norwegian farming area – and salt. Smoked cod (Gadus morhua) – Captured in the Northeast Atlantic -FAO 27 [Sub-area (SC): see printout] – Salt and sugar. Smoked yellowfin tuna (Thunnus albacares) – Caught in * (see print) – salt and sugar). – Cod fishing gear -> See batch start letter: A – Trawl nets; B – Others: see print -Tuna fishing art: Seine nets and hoisted nets – * See last letter of Lot: A – Western Indian Ocean, B – Central-Eastern Atlantic, C – Southeast Pacific Ocean, D- Southeast Atlantic , E- Others: see print.

INGREDIENTS
Skandia Smoked fish Assortment (salmon, cod, and tuna), goat cheese, tomato, black caviar substitute, egg-yolk garnish, toasts.
PREPARATION
Our assortment of smoked fish is ideal for preparing small bites with all the flavors of the sea. Prepare the toasts by combining the salmon with a slice of goat cheese, the cod with a crushed tomato base and a teaspoon of black caviar substitute on top, and finally, place the tuna slices on an egg-yolk garnish nest.
An assortment of smoked canapés to suit everyone's tastes.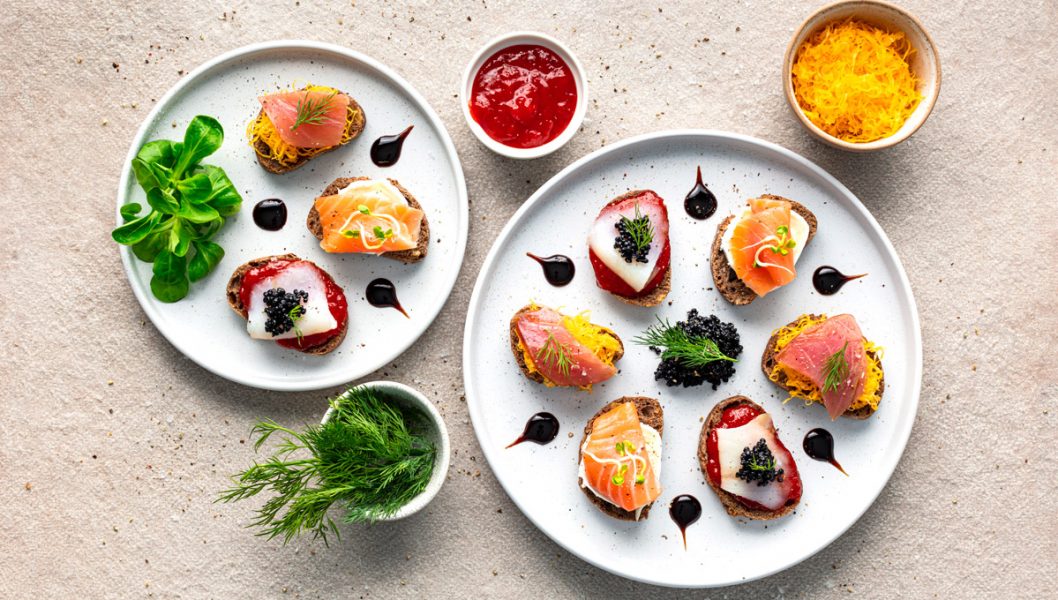 Subscribe now to the Skandia Newsletter to receive information straight to your inbox, including all our news, delicious recipes and promotions.