Energy Value: 522 KJ / 124 Kcal
Fats: 2,6 g of which saturated: 0,7 g
Carbohydrates: 1,2 g, of which Sugars: 1,2 g
Proteins: 24 g
Salt: 4,3 g
Keta salmon (Oncorhynchus keta) smoked – caught in the Northeast Pacific Ocean – FAO 67 -, and Salt. Fishing gear: Gillnets and the like.
RECIPE: MSC SMOKED WILD KETA SALMON (50% LESS FAT) SKEWERS
PREPARATION
Smoked wild Alaskan salmon 50% less fat, zucchini, cherry tomatoes, salt, pepper, cream, lemon and chives.
PREPARATION
Wash the zucchini and cut them lengthwise into strips. Rinse off the cherry tomatoes and let them drain. Thread our MSC Wild Keta Salmon 50% less fat, a zucchini strip and a cherry tomato alternately on the skewers, add some salt and pepper. Prepare the sour cream with cream, juice of half a lemon and finely chopped chives: the best sauce to accompany your Keta Wild Salmon skewers.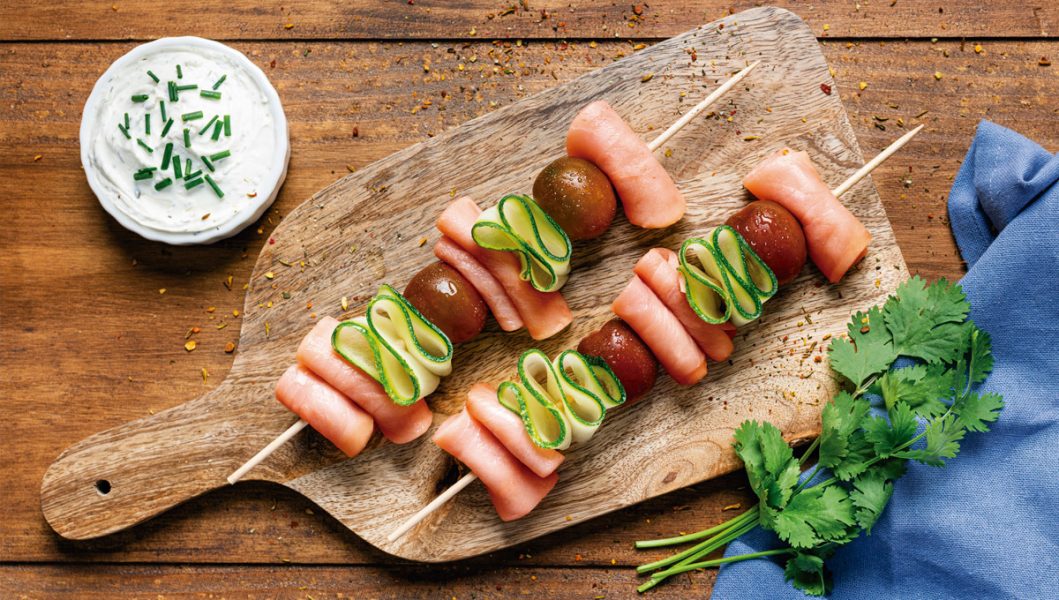 Subscribe now to the Skandia Newsletter to receive information straight to your inbox, including all our news, delicious recipes and promotions.