Energetic Value: 448 KJ / 107 Kcal
Fats: 11 g of the wich: 1 g
Carbohydrates: 1 g of which sugars: 0 g
Proteins: 1 g
Salt: 4 g
Seaweed Extract (Phaeophyceae) – Captured in Northeast Atlantic – FAO 27.IV – (83%), water, salt, flavorings, spices, antioxidant (citric acid), stabilizer / stabilizer (xanthan gum), preservatives (E-202 and E-211) and colorants (E-100 and E-120). – Seaweed fishing gear: Trawl nets–
RECIPE: MINI CREPES RECIPE WITH RED CAVIAR SUBSTITUTE AND FINE HERB CHEESE
INGREDIENTS
Red Caviar Substitute, cream cheese, chives and extra virgin olive oil.
For the dough: 2 eggs, flour, milk and sugar.
PREPARATION
Mix 2 eggs, flour, milk, 1 tablespoon of sugar and a drizzle of Extra Virgin Olive Oil. Whisk it well, then, add a little bit of the mixture divided into 4 small circles in a pan lightly oiled. When the edges begin to brown, turn them over. Spread cream cheese seasoned with Provencal herbs over each of the mini-crepes and add a tablespoon of red caviar substitute. Finely chop some fresh chives and sprinkle them on every crepe.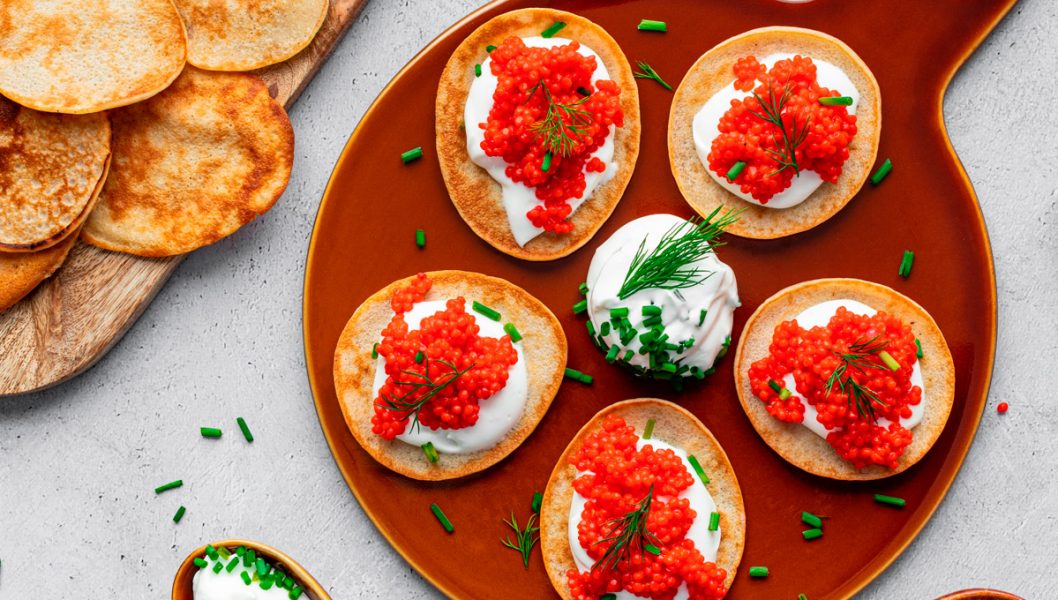 Subscribe now to the Skandia Newsletter to receive information straight to your inbox, including all our news, delicious recipes and promotions.