Energy Value: 375 KJ / 88 Kcal
Fats: <1,0 g of which saturated: 0,1 g
Carbohydrates: 1,6 g of which sugars: 1,6 g
Proteins: 21 g
Salt: 1,8 g Extra virgin olive oil: Energy Value:: 3700 KJ / 888 Kcal
Fats: 100 g of which saturated: 14 g
Carbohydrates: 0 g of which sugars: 0 g
Proteins: 0 g
Salt: 0 g.
Smoked cod (Gadus morhua) – caught in the Northeast Atlantic – FAO 27 (Sub-area: see print), fishing gear ** -, salt and sugar.
** If the lot ends in A: trawls, B: (see print on the bottom).
Extra Virgin Olive Oil

RECIPE: FRESH COD CARPACCIO SALAD
INGREDIENTS
Skandia Cod Carpaccio Skandia, yellow pepper, chives, ment, sprouts, Extra Virgin olive oil, lemon juice, salt and pepper.
PREPARATION
Chop the pepper and spring onions finely and place them in a bowl. Add the shredded cod, mint and the garnish. Season to taste with lemon, salt, pepper and oil. Ready to enjoy.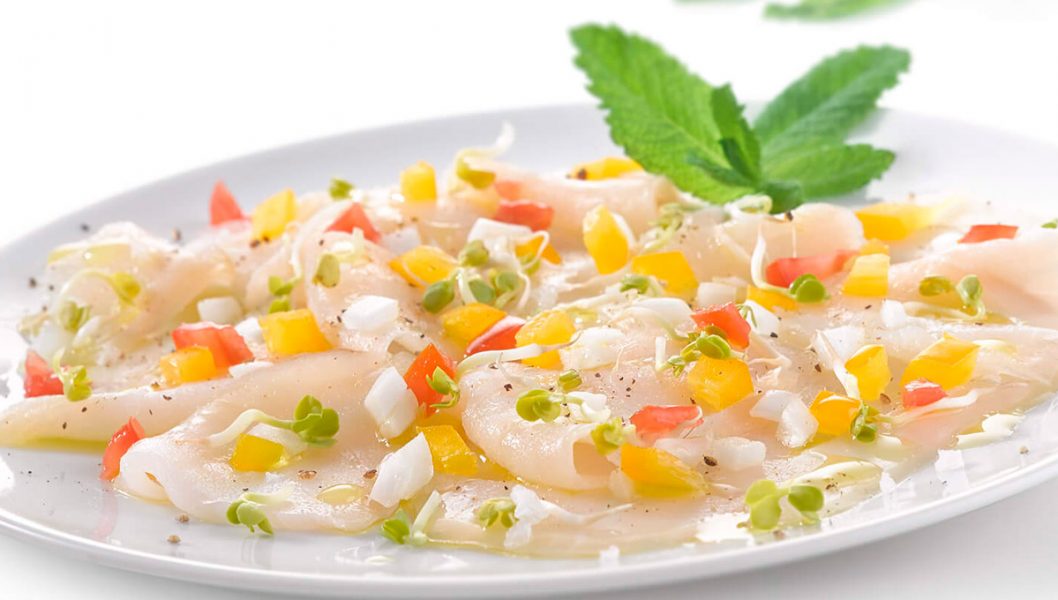 Subscribe now to the Skandia Newsletter to receive information straight to your inbox, including all our news, delicious recipes and promotions.