What motivates us day in day out, makes us passionate, inspires us… Skandia Ahumados wants to share all the latest news about our company with you.
This February Skandia collaborated with Marine Stewardship Council (MSC) in the #seasforever campaign. We want to transmit our commitment, as a company, with sustainable fishing, the conservation of the environment and the advances in our company policies to improve in this matter everyday. But above all, we want you to become an active part of this commitment: because, enjoying the seafood, while taking care of the sea, is possible.
Vensy Spain has received a grant from the European Maritime and Fisheries Fund (EMFF) due to a project to improve the agri-food industry for the purposes of transformation and manufacture of fish products and smoked aquaculture. This grant will be use for installations of new lines of equipment, transformation of products and refrigeration insulation.
Looking after the environment is everyone's business. We can all do little things to help conserve the seas and oceans. At Skandia, we have products that carry the MSC blue label guaranteeing sustainable fishing and environmental conservation. It is possible to enjoy the best flavors of the sea while helping to look after it.
ALSO FOR CHRISTMAS, CHOOSE SUSTAINABLE FISHING
Christmas is coming and we would like to wish joy to you and your family in this special time. We hope you laugh and play without forgetting to take care of the planet. Skandia offers you products labelled with the MSC blue seal that guarantees sustainable fishing and commitment with the conservation of our seas. Forbid sea life to become a 'once upon a time' tale.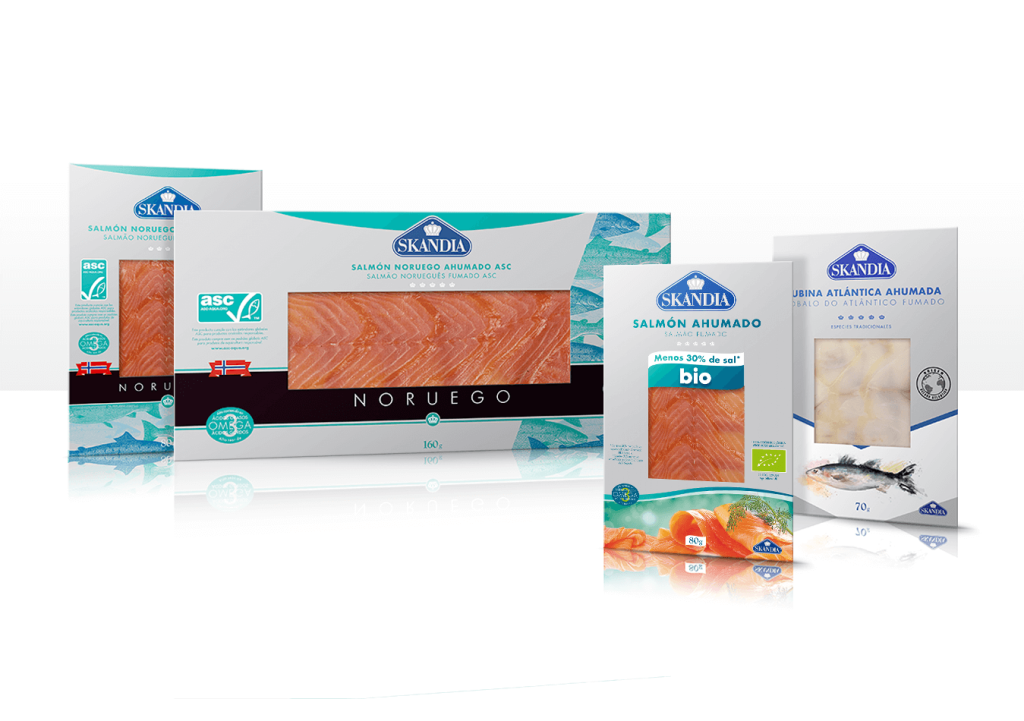 New Skandia products on your tables. Our ASC Smoked Norwegian Salmon guarantees socially and environmentally responsible aquaculture. Our organic Smoked Salmon with 30% less salt ensures you can enjoy the flavour of an organic and healthy product, and our Atlantic Smoked Sea Bass is certified 100% Atlantic in origin.
Skandia for responsible aquaculture
Being the first Spanish company to receive the ASC certificate for a smoked salmon is evidence of Skandia's commitment to the environment. With this certificate, Skandia is committed to environmentally and socially responsible aquaculture, while using an aquaculture method that will play a key role in fish farming in the future.
ASC and Skandia join forces
Skandia has become the first Spanish company to receive the ASC certificate for its smoked salmon, committing itself to transforming the aquaculture sector into one that is responsible to society and the environment. Skandia signs up to the ASC's goal of meeting the food needs of the world's growing population in a manner that is sustainable for the whole of society.